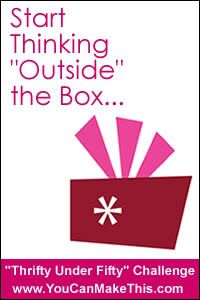 No, I'm not going to stop blogging! Its just the end of the Thrifty for under Fifty Challenge tonight! I have had the most amazing time crafting my Christmas gifts this year. I hope I am giving some gifts that will really mean something to my family! :) Plus, I made all of my presents for a GRAND TOTAL OF:
Drum Roll Please.....
$25.34!!!
I have posted all of my gifts onto my secret blog. If you don't yet have the address, let me know by leaving a comment on this post with your EMAIL ADDRESS so I can send it to you!
Also, don't forget to check out the
YCMT blog for updates
. I am on TEAM KRIS!! We have really been knocking out these gifts! Some amazing girls on there!!!!
I just want to say thank you to Kim, Kris, and the entire staff over at YCMT for letting me participate in this opportunity. I had a blast!!