So, DUH, I love to cook! I wouldn't have gone to school for it if I didn't. But I think everyone expects me to cook these fancy meals that no one can pronounce.
But I'm just like you, I love spaghetti, Shepard's pie, pot roast, and Chinese! But my favorite thing to do is find meat on sale, or just really cheap (like buying 2 of the small packages of chicken that are $2.00 a piece instead of one big package for $6.00) and making something awesome out of it!
So anyway, I know this is the second fish recipe, I promise, I will have some chicken recipes really soon! But this dinner was so good, how could I NOT post it?
This is blackened Tilapia, you can use any white fish you want though....catfish, grouper, orange roughy, cod, pike, etc. But the tilapia was $1.99 at Randalls ON SALE!!! So I got it!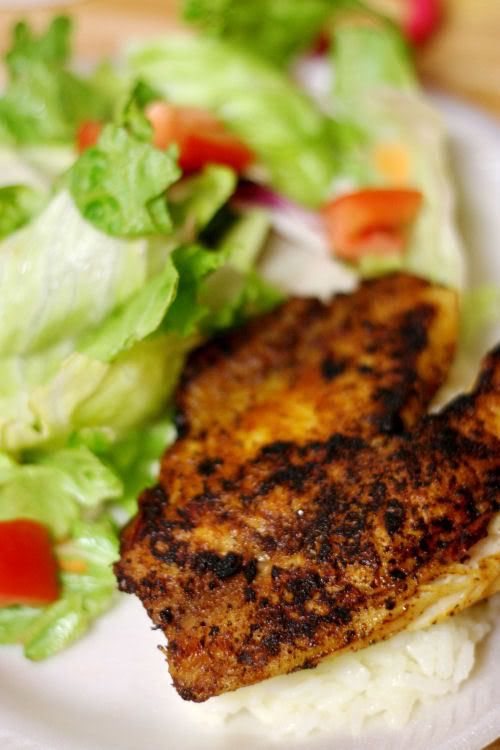 Here is how to make it:
Spice Rub, just mix this all together
2 teaspoons ground paprika
2 teaspoons onion powder
2 teaspoons garlic powder
1 tablespoon granulated sugar
2 teaspoons salt
2 teaspoons black pepper
3/4 teaspoon ground cumin
1/2 teaspoon ground nutmeg
2 teaspoons Italian seasoning
1 teaspoon Cajun seasoning (I like Tom's)
Next, take your fish and spray it with some non stick cooking spray and rub the seasoning on, about 1-2tsp. for each side.
Then I just cooked it in a pan with a little more spray oil until it looked crusty on the outside and the inside is flaky and white.
I served it with a salad, rice and black beans that I mixed some salsa in to! YUMMY BLACK BEANS!!
Enjoy Guys! :)