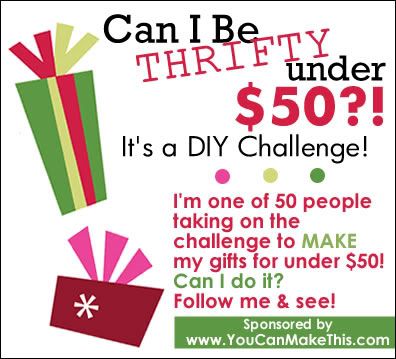 One of my favorite websites,
youcanmakethis.com
is hosting a really awesome opportunity. They had a contest of sorts to see who could be Thrifty under 50. That is, they chose 50 people to make the vast majority of their Christmas presents for under $50.00 TOTAL in about a months time.
So I thought to myself when I saw the opportunity..."I think I could do that!" So I applied. And guess what? I GOT CHOSEN!!
So now I am part of this ultra secret society of 50 awesome women and we are all currently working on awesome projects for our friends and family. I am having the best time and really getting some great ideas! We have all also started SECRET BLOGS that no one can see so that we can show each other our progress...but not the people receiving the gifts!
I just wanted to say thank you to all the girls over at YCMT that put this together. I am having the best time!
I cant wait to show you all what I made...since I cant show you here. My sister and my mom read my blog and I am doing some projects for both of them! :)
YAY TEAM KRIS!! We are totally going to win!