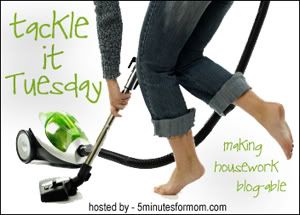 Hey Everyone! Tuesday already? I want it to be Wednesday so I can show you my newest weigh in!! I'm so excited :)
Today's Tackle it Tuesday is my jewelry collection. I have a TON of jewelry as one might expect of a jewelry designer! hehe But I have had it all shoved together in shoe boxes for the longest time, all tangled up and gross! I even forgot that I owned some things.
So while I was washing my sheets I decided to lay it all out on the bed so I could see what I had, what I wanted, what I didn't want, what to give to Lagan or my sister, etc.
...It took up the ENTIRE bed!...
Then, I used this huge memo cork board that I bought at Goodwill for $3.00 and some thumb tacks I got at walmart for $1.99 and got to work. I hung up all my chunky jewelry that couldn't be folded up on to here.
Once it was full, I moved onto this organizer that I got from Target for $2.50 in those front bins that have stuff for $1-2.50.
I put all my other necklaces in here (its full now too!)
I also put my bracelets in these baskets that were in the kitchen before,
you might remember them from this T.i.T.
(that sounded REALLY bad!!)
And my earrings are in the little canisters, also from Target. They were in the $1.00 bin, but they had a 75% off sale to clear them out, so they were only $0.25 each. I got 4 for $1.00! Such a deal!
I should have gone back and bought more....oh well!
(I also have my necklaces out that are very delicate like the one on the bust that my mom got for me. She got it on an Indian Reservation in Arizona! I L-O-V-E it!)
So that concludes today's tackle it Tuesday! I cant wait to see you tomorrow for the 1 month mark in Live well Wednesday!